Attorney Shelly A. Kintzel focuses on employment law, administrative issues, appeals, and complex litigation. Her practice includes:
Helping businesses with employment issues such as defending against discrimination or wrongful termination claims, negotiating severance agreements, and enforcing non-compete agreements
Drafting employment policies and advising employers on best practices for compliance with laws such as ADAA, FMLA, FLSA, ADEA, and MHRA/Title VII
Defending attorneys and other licensed professionals against licensing board complaints or investigations
Conducting investigations into complaints of sexual harassment or hostile work environment
Advising about unemployment issues, including properly classifying workers as employees or independent contractors and advising whether to contest a claim
Providing general business advice such as drafting liability waivers, forming LLCs, succession planning, and contract issues
Representing organizations and individuals in general litigation including constitutional issues, contracts, tort claims, and trust disputes
Assisting individuals with estate planning, trust administration, and probate
Before joining CVDL in 2012, Shelly worked as an Assistant General Counsel for the Missouri Department of Labor and Industrial Relations for more than five years. Prior to that, she served a law clerk for Missouri Supreme Court Chief Justice Michael A. Wolff for two years. She has also worked as an Assistant Attorney General in the Governmental Affairs Division of the Missouri Attorney General's office. Shelly has served on the Advisory Board of the Jefferson City Salvation Army since 2012.
Originally from Kansas, Shelly now lives in Jefferson City with her husband and their two children. They are active members of First United Methodist Church. Shelly has provided presentations for the Missouri Chamber of Commerce, the Missouri Banker's Association, and the Missouri Bar on issues including unemployment compensation, non-compete agreements, and civil procedure.
Education: B.A., University of Kansas (1997); J.D., University of Kansas School of Law (2003).
Honors and Publications: Order of the Coif; University of Kansas Law Review; Author: The Effects of Domestic Violence on Welfare Reform: An Assessment of the Personal Responsibility and Work Opportunity Reconciliation Act as Applied to Battered Women, 50 Kan. L. Rev. 591 (2002)
Bar Admissions: Missouri (2003); United States District Court for the Western District of Missouri; United States District Court for the Eastern District of Missouri.
Representative Appellate Cases:
Concannon v. Doerhoff, 647 S.W.3d 890 (Mo. App. W.D. 2022)
Board of Commissioners of Franklin Co. v. Twentieth Judicial Circuit, SC99010, ___ S.W.3d ___ (Mo. App. W.D. 2021)
Doerhoff v. Concannon, 621 S.W.3d 567 (Mo. App. W.D. 2021)
Suppes v. Curators of the University of Missouri, 613 S.W.3d 836 (Mo. App. W.D. 2020)
Theroff v. Dollar Tree Stores, Inc., 591 S.W.3d 432 (Mo. banc 2020)
Piercy v. The Missouri State Highway Patrol, 583 S.W.3d 132 (Mo. App. W.D. 2019)
Bradshaw v. Ashcroft, 559 S.W.3d 79 (Mo. App. W.D. 2018)
Suppes v. Curators of the University of Missouri, 529 S.W.3d 825 (Mo. App. W.D. 2017)
Kerr v. Curators of the University of Missouri, 512 S.W.3d 798 (Mo. App. W.D. 2016)
Missouri Corrections Officers Assoc. v. Missouri Department of Corrections, 409 S.W.3d 499 (Mo. App. W.D. 2013)
Related news
and Articles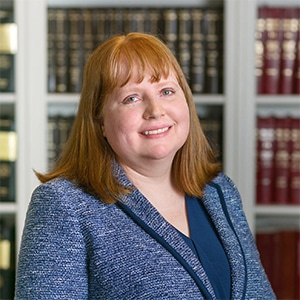 CVDL is honored to have been named the 2022 Top Law Firm in Jefferson City as selected by News Tribune Readers. Dale Doerhoff was selected as the Top…
Three CVDL attorneys—Dale Doerhoff, Heidi Doerhoff Vollet, and Shelly Kintzel—spoke at the Missouri Bankers' Association's Legal Risk Management Series. Their presentation, "Business and Data Risks When Employees Leave,"…